Jute Loom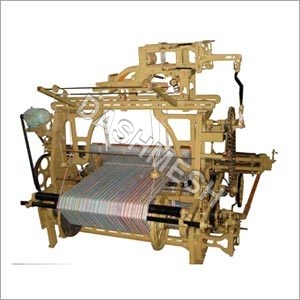 Jute Loom
Product Description
Jute Loom
We are considered as a renowned manufacturer, supplier and exporter of a high performing array of Jute Loom. These are manufactured in line with the International standards using high quality raw materials and sophisticated techniques. Sturdy in design and user-friendly, these Jute Looms are offered in different technical specifications to meet the needs & preferences of our clients. Our Jute Looms are competitively priced and most acknowledged due to features like high efficiency, corrosion resistance, reliable operation and longer operational life.
Features
On this machine you can make all types of Jute Products. Like Jute Mat, Mute Bag clothes, Jute Jacquard Mats Etc.
Description

Weaving: Power Loom, Jute Loom, Rug Loom (First time in India), Carpet Loom(First time in India), Velvet Loom, Towel/Terry Towel Loom, Canvas Loom, Wrapper Loom, Blanket Loom, Handloom Jacquard, Power Jacquard, Dobby, Shuttle-Box (1x2, 2x2, 2x4, 4x4).

Weaving preparatory: Warping, Sectional Warping, High tech Sectional Warping (For Rapier Looms), Winding: Cone 2 Cone, Hank 2 Cone, Cheese Winding, Spool Winding, Tube Winding, Pirn Winding, Hollow-Cop Winding, Cop-Less Winding,

Processing, Furnishing & Printing Machinery: Jigger, Jumbo Jigger, Mangle, Hydro Extractor, Decatise, Drawing Range, Bale Press, Heat Transfer Printing Machine (Flat & Running), Cloth Rolling, Cloth Folding, Cloth Inspection Machinery.

Martial Handling Equipments: Beam Trolley, Empty beam lifting trolley, Filled beam trolley, Heavy Beam Donning Doffing Device.

Rapier Loom Parts: Pick Gear box, Lett-off Box, Take-up Box, Rapier alignment Guides / Gauges, Warp Beams, Warp beam's Flange & all types of gears.